Fishing Kingdom
Wanna try something new? Then get in the boat, choose your weapon, and get ready to reel in the big one! Brilliant art, new features, co-op up to 4 players online - dozens of benefits and features in 1 game. Free Shots, Pick'em Game, Bonus Wheel, Super Laser all you need to get the biggest haul. The Fishing Kingdom will fire you up!
features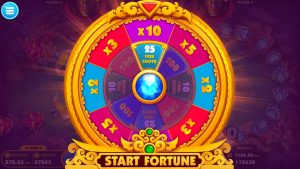 about game
To fish or not to fish? The answer with the Fishing Kingdom from NetGame is definitely Yes! The Fishing Kingdom is much more than a fish game. It is a great occasion to try many various features in one game, get rewards, and make it most stylish.
In the Base game, you will find a сannon, which will be your best friend for that time. For killing each fish, the player receives a particular reward. Each type of fish has its own chance of being killed and, accordingly, one or another has its own payout. There is Auto Aim & Fire mode in the Base Game. It can be turned on for an unlimited amount of time and is activated simply by pressing the select button to start the aim mode. In this mode, the player can focus on his desired aim and catch it with the laser.
In the Fishing Kingdom, you experience a wide range of Bonus features. With the Free Shots feature - at random times, the bonus symbol - a bubble with Free Shots appears on the screen, and by shooting the symbol, players have the chance to get a Free Shots bubble.
Shall we continue our fishing trip? For sure! In the Pick 'em Game, the Pick 'em Game's bonus symbol appears during gameplay, and by hitting it, players can trigger a Pick 'em game. The game has 5 prizes with x50, x100, x250, x1000, x2500 total bet wins.
The Bonus Wheel feature has the same scheme as Pick 'em Game rewards players with prizes and multipliers just by spinning the Wheel.
Which superb fishing can be without the big catch? Definitely not The Fishing Kingdom! You will have an exciting fight here with a Big Boss creature. By shooting the Big Boss, players have a good chance to hit a big prize. Our mad fellow Big Boss pays 4 times, and the last one is the biggest.
And, as usual, the ice on the cake is a Super Laser feature. We can assure you would never have such a crazy fishing experience without it. If you nailed to shoot this symbol, no one could scare you, even the biggest fish in a Kingdom. The Super Laser gives players an excellent chance to get up to 500 laser hits and subdued any Kingdom, even with Big Boss.
Don't miss this spectacular Game - the Fishing Kingdom will fire you up!
general information
Name

Fishing Kingdom

Game type

Multiplayer Fish Games

Realeased on

November, 2021

Goes on

Windows, IOS, Android, Linux

Technologies

HTML5

Gameplay Features

Free shots, Pick'em Game, Fortune Wheel, Super Laser, Multiplayer Mode
gameplay
Slot type

Other

Paylines

No

Reels

No

Maximum Win Base Game

x5000

Volatility

Medium

Symbols

Other

Bonus Feature

4

Hit Frequency

No

RTP

96.02%

Bonus Feature Hit Rate

No

Maximum Feature Exposure

x5000
Contact us
Let's do amazing things together!
Please drop us a line so we can discuss partnership opportunities.